ONE WAY Wednesday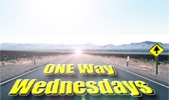 7-8:30 PM (Lesson begins at 8PM)

Our Junior High Ministry takes place Wednesday evenings.
Beginning with games/activities that lead into our lessons which are geared specifically toward the Junior High age group and built around the opportunity to read and discuss the Word. We use a lot of in-depth studies from book series to video series.

[
back
]