Adventure Week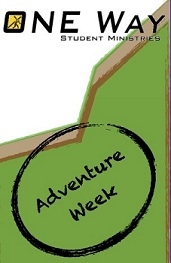 Every year we offer a chance for students of JR. High age to join us on a week of adventure activities. From ropes courses to kayaking to caving we challenge ourselves with some kind of adventure helping us learn things about ourselves and about each other. More than that we study God's word during our activities, where we try to tailor our lessons to each days activities. Linked below is the forms that go along with each organization we use to help us in our Adventure Week. We partner with some of the greatest places in and around South Western PA. If you are JR. High age you should have received our pamphlet for registration. If not, please contact Jim Thomas for a registration pamphlet. Remember, Everyone needs a little adventure!
* Adventure Week always takes place in conjunction with the Hickory United EPC week of Vacation Bible School (VBS). Though our scheduled events run longer it makes it simpler for bringing families in at one time.
Click Here to download the file with the various forms to fill out.
* Remember all forms must be turned in including the youth group's "Yearly Parental Waiver" found on the youth page. Also please refer to each years Adventure Week Pamphlet as some events and times may change.
[
back
]